02-08-2019
The Department of the Interior (DOI) have identified a solution to recapture dues owed by employees for 2019 PP01 and 2019 PP02.  Their plan is to use the dues that were paid by each employee in the last pay period of 2018 (PP27) as a proxy for dues owed for 2019 PP01 and 2019 PP02.  They will deduct dues for PP01 in PP04, and dues for PP02 in PP05, so all year-to-date dues should be caught up by PP05.  (Normal dues should be deducted in PP03, PP04, and PP05 in addition to the catch up dues for PP01 and PP02.)
01-25-2019
Most of you probably already know, but at about 2030 legislation was signed by the President reopening the government for three weeks. We are to return to work on our next scheduled shift. I expect it will be at least a week before classes might resume. Back pay should be coming shortly. If I get more details I will post.
01-25-2019
Vision and dental coverage has been extended one more pay period, now good for three pay periods.
01-24-2019
Rumor Control
Federal Employees Health Benefits and Federal Employees Group Life Insurance will continue to be in effect for up to 12 consecutive months of non-pay status. However, Dental, Vision and Long term healthcare may start direct billing you beginning on the third check.
The complete updated fact sheet con be found here.
Please feel free to reach out with any questions you may have.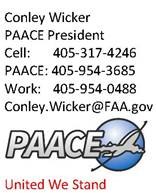 01-23-2019 @ 1200
WHAT:                  Feed the Children will provide 400 families who have been affected by the federal furlough a 25-pound box of food and a 15-pound box of essential items (such as laundry detergent, dish soap and other household goods). 
Interested individuals can register at http://www.feedthechildren.org/furlough. When attending the event, government employees should bring their federal ID and registration confirmation, and government contractors should bring their federally-issued ID and registration confirmation. 
At this time, supplies are limited to the first 400 to register. However, a wait list will be started when we've reached our capacity and those individuals will be contacted first to receive any subsequent support at future distributions.                            
WHEN:                   Thursday, Jan. 24, 2019, 9 -11 a.m.
WHERE:                 Feed the Children's Distribution Center
                             29 N. McCormick Ave.
                             Oklahoma City, OK  73127
01-23-2019 @ 1000
From TSP Website
Government Shutdown and Loan Payments — (January 8, 2019) The TSP allows for the suspension of loan payments when you go into nonpay status to prevent your loan from going into default. Normally, we require documentation from your agency or service. However, the TSP does not need documentation of your furlough at this time. If your loan payments were up to date prior to the furlough, missing one or two payments will not cause your loan to be in default. You can check the status of your loan by logging into My Account, selecting "TSP Loans," and then selecting "Are my payments up to date?" Or you can call the ThriftLine at 1-877-968-3778 and speak to a Participant Service Representative.
As long as retroactive pay is approved, all missed loan payments will be submitted and posted to your loan. We will provide more information as the furlough continues or as events change.
01-20-2019
On this our 30th day of furlough I wanted to again reach out with some information. There have been a lot of rumors about today marking a RIF, OPM, U.S. Office of Personnel Management, has clarified that is not the case. There are two types of furloughs, administrative furloughs and shutdown furloughs. The first would trigger a RIF after 30 days the second doesn't. Fortunately we are in the second a shutdown furlough.
You will be receiving another furlough letter shortly, but it doesn't mean anything it is another requirement under law.
Below are some links to more information:
https://www.transportation.gov/lapse
https://www.opm.gov/policy-data-oversight/pay-leave/furlough-guidance/
Conley Wicker
PAACE President